Worthington Christian Lower School students find solace in being 'farm hands' at Marmon Valley.
Mikayla (Ruzika) Strong's world has changed greatly since she first attended the Lower School's Friendship Girls Weekend at Marmon Valley Farms in Zanesfield and her most recent visit. In the two decades since she went to the camp with her mother Paula Ruzika and returned with her own children, Strong has been married, changed her name, and has had two children, Olivia (WC '32) and Amelia (WC '35).
However, when she set foot in Marmon Valley on Sept. 8, this time as a parent, Strong discovered a place that has remained the same.
"Marmon Valley looks exactly how I remember it," she laughed. "It's so wild to have things go full circle, with me taking my kids there.
"It's just one of those extremely special moments where you get to experience something again, this time through your children's eyes."
The Strongs were part of a large throng at the Sept. 8-10 retreat where daughters bonded with their moms as well as their classmates as they camped out in barns, rode horses, completed ropes courses, had campfires, took hayrides and had a barn dance. Marmon Valley also hosted a Warriors Boys and Dads weekend on Sept. 15-17.
Worthington Christian alumni parent Ginny Englehart, who started the retreat in 1994, hears what parents like Strong say and smiles.
"They've added rope climbing and a few things that they didn't have when we were there, but it's basically the same thing," said Englehart, whose daughters Cara (WC '07) and Emily (WC '11) took part in the camp. "It was very sentimental and nostalgic for me to see all these people who graduated with my kids bringing their sons and daughters back to camp."
The Friendship Girls' Mother-Daughter Weekend is an example of turning a negative into a positive. When Cara was in kindergarten, Englehart remembers attending a birthday party of one of her daughter's classmates.
"One of the moms at this party came up to me and sighed, 'Oh my goodness, these girls can be just so mean to each other,'" Englehart recalled. "You know how it is in elementary school. Every child gets a label: the smart one, the athletic one. And it can be difficult.
"As I listened to her, I decided I wanted to put all the girls in a place without a classroom so they could get to know each other. It would also be a great way for their moms to get to know each other."
By the time Cara graduated, the camp had reached legendary status.
"What touched me came at the Lifer Banquet (a dinner recognizing students who spent all 12 years at WC)," Englehart said. "Students were asked what their favorite memory was of Worthington Christian, and nearly every single girl said 'Marmon Valley.'
"After several girls had mentioned the camp, one of the fathers said, 'Okay, you're going to have to tell me what is this Marmon Valley? I don't know what this farm camp is, but I've heard about it all night.' And all the girls started chattering, 'Oh my gosh, it was the greatest thing.'
"I never thought it would still continue 29 years later."
Englehart recalled the first camp being somewhat of a metrological disaster. Held in October, the event was marred by a steady downpour and chilly temperatures. After that year, the group decided to move the fall weekend to early September when the weather conditions are usually more moderate.
Suzanne Homoelle, whose three daughters, Courtney (WC '09), Bethany (WC '11), and Colleen (WC '15), all attended the retreat, said Wrangler Matt Willey sets the tone for the camp. The director's parents, Bill and Phyllis, founded Marmon Valley in 1964. According to Marmon Valley's website, Bill Wiley's dream was to open a farm camp for children to experience "real" farm life for a week.
Homoelle said the camp's appeal comes down to finding God on the horse trails, the barns, and campfires.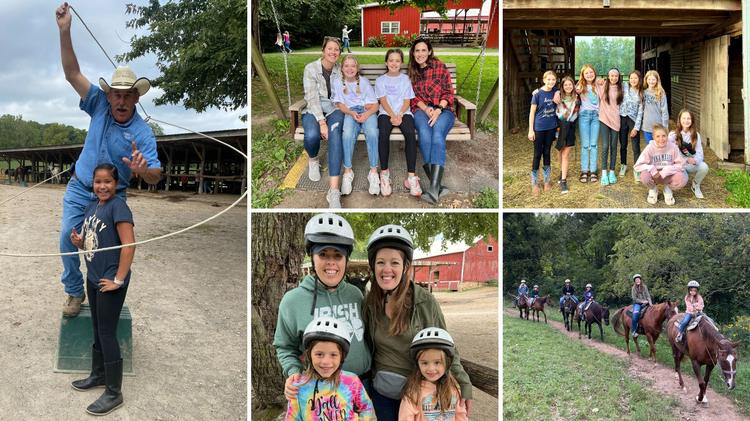 Scenes from the 2023 Friendship Girls Weekend at Marmon Valley Farms.
"The people that run it do a phenomenal job," she said, "Wrangler Matt (a Marmon Valley fixture since WC started bringing students there) said his goal is to teach campers about Jesus and how God is in all the creation out there. Marmon Valley lets us city folk be farm hands and cowboys for a day or so."
Students rarely forget the breakfasts over a campfire where they had to catch flying pancakes coming at them or the way a walk in the woods with Wrangler Matt would lead to a Bible study.
Willey said he learned so much about running the camp from his parents. His goal is to provide a place where the power of God's creation overwhelms any distraction the world throws in a camper's path.
"My folks started the place when I was a year old, and so much of what I do I have to pass back to my dad," he said. "My dad was an avid outdoorsman. When I was 10 or 12, I was like, 'Oh, there goes Dad again on some old nature walk.'
"But now, as I became a dad, it's like, wait, there are some cool things out here, you know?"
The charm of the Marmon Valley excursions comes from being around horses. Campers often remember the name of the horse they rode on decades after attending the camp.
Englehart said her daughter Emily's first ride at the camp ended much quicker than she thought it would. A horse fly stung her horse, and it threw Emily off.
"Emily cried and cried, but about two hours later, Wrangler Matt said, 'I need you to come with me,'" Englehart said. "She goes, 'OK, what are we doing here?' Matt told her, 'I will get you back on the horse. Don't worry because I will be with you every step of the way.'
"If he hadn't done that, she probably never would have gotten on a horse again. But you know what? After Marmon Valley, she took riding courses and showed horses."
Strong said one of the things Wrangler Matt taught her was an analogy he made between man and horses.
"Horses can be hard and stubborn, kind of like we are," she said. "Horses like to go off on their own path and eat whatever they want. God needs sometimes to take us by our reins and pull us back into line.
"Wrangler Matt is so good at that. He centers it all and brings it all back to Christ."